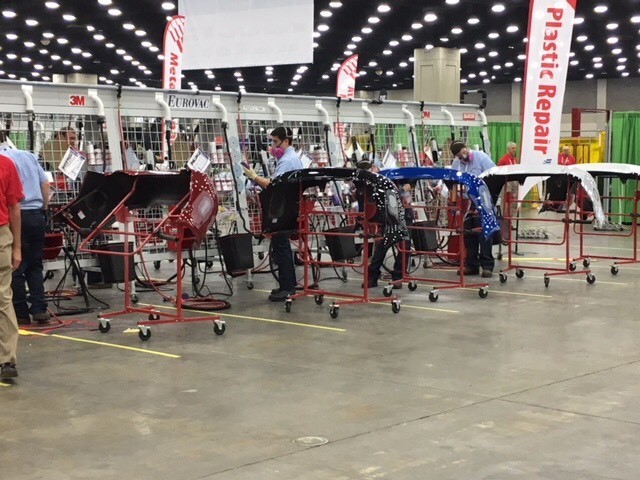 During the 54th Annual National Leadership and Skill Conference (NLSC) in Louisville, Kentucky, CAPA Aftermarket Industry Relations Manager Stacy Bartnik served as a judge for the SkillsUSA Championships plastic repair competition. Bartnik drew on more than 20 years of experience in the collision repair industry, including expertise on fit and finish to evaluate contestants' performance.
During the SkillsUSA Championships, more than 6,000 career and technical education students –– all state contest winners ––compete in 102 hands-on skill and leadership competitions. Contests are run with the help of industry, trade associations and labor organizations, and test competencies are set by industry.
During the plastics repair competition, contestants illustrate their expertise by completing three different repairs on a bumper facia; tab repair, and two tears using flexible filler and plastic welding. They were then evaluated based on prep of repair area, products used, quality of sanding and featheredge, weld quality, finished repair quality. The contestants had 90 minutes to compete this segment.
As the global leader in aftermarket part certification for more than 30 years, CAPA is dedicated to ensuring that the industry, and consumers, have the means to identify high-quality aftermarket repairs and parts, which includes design, materials, construction and comparability to car company brand parts.
Bartnik commented: "I was thrilled to represent CAPA at the SkillsUSA Championships, drawing upon our dedication to working with the industry, including the skilled workforce represented by SkillsUSA, to ensure high-quality repairs are done using the right part for the job. We are also committed to working with customers, industry experts and internal colleagues to ensure the needs of the industry and consumers are being met. Our partnerships with SkillsUSA and their Annual National Leadership and Skill Conference is just one of the ways we can ensure these needs are being met."
Gold medal winners for this competition were Caleb Eyler from Warren County Career Center, Warren, PA (High School), and Johnathan Wolfe from Wiregrass Georgia Tech College, Valdosta, GA (College). For more information on the SkillsUSA Championships, please visit https://www.skillsusa.org/.