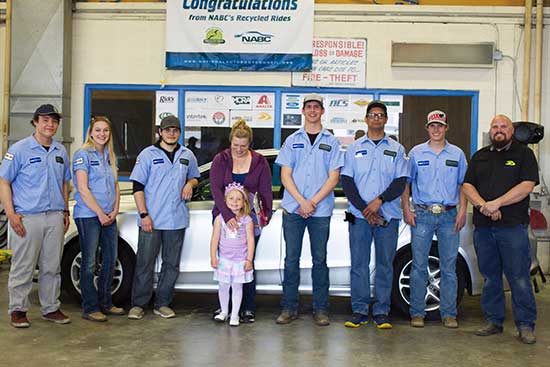 MSU BILLINGS NEWS—The auto body program at City College at Montana State University Billings partnered with the National Auto Body Council's Recycled Rides program for the second year to help with the donation of a refurbished car to a local family. Micki Morrow and her daughter were presented with the vehicle at the City College Car Show and Collision Repair Exploration Day in April.
The day featured a car show with over fifty cars, food, prizes and vendors. Steve Wodrich, auto body instructor at City College, organized the event to allow the public to view the auto body program and all the opportunities it can bring.
The highlight of the show came when Wodrich's students unveiled this year's Recycled Rides project. Recycled Rides is a program developed by the National Auto Body Council as a way to help low-income families get a vehicle when they would otherwise be unable to afford one. This year, State Farm Insurance donated a 2014 Ford Fusion to the cause.
Auto body students disassembled the vehicle, assessed the damage, wrote the estimate using OEM repair procedures, and performed repairs. Diesel program students at City College also worked on the car and replaced an engine cradle and performed an alignment on the vehicle.
Wodrich worked with Love, Inc. of Yellowstone County and the Harvest Church Car Care program to find the recipient of this year's car. The Fusion was presented to Morrow and her daughter during the awards ceremony at the car show. Morrow had not been able to afford a vehicle for several years and had to depend on friends and family members for rides to work. "This makes me feel free," Morrow said as she tearfully accepted the keys to her new car and thanked the students that worked on it. "I've wanted to put my daughter in soccer and take her to meet my family in Miles City but was never able to do that until now."
"This is a great project for the students," Wodrich said. "Not only do they get the experience of working on a newer vehicle, but they also get a chance to see the difference they can make in someone's life."
Over $5,000 in parts were donated to the project by Archie Cochrane Ford, Denny Menholt Frontier Chevrolet, American Auto Body, OHS Body Shop, Rick's Auto Body, AA Truck Collision, Dietz Auto Salvage, Hank's Body Shop, Intertek Parts, Big Sky Collision Center, the Montana Collision Repair Association, National Coatings and Supplies and Axalta Coating Systems. Hail Team 6 also provided some paintless dent repair.
Wodrich plans on making the car show an annual event and will give away a Recycled Ride at it every year.
For more information about the City College auto body program or Recycled Rides, contact Steve Wodrich at 247-3041 or at steven.wodrich@msubillings.edu.