Collision Repair Professionals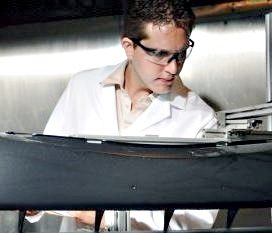 At CAPA, we don't make or sell replacement parts for vehicles. We test them.
As the nation's only independent non-profit replacement parts certification authority working in the public interest, we protect you and your customers from inferior replacement parts. We put parts like fenders, hoods, grilles, headlights and bumpers through tough tests to see if they fit, perform, last and are as safe as the originals.
Only those that pass our tests earn the right to be called CAPA Certified replacement parts and carry the distinctive yellow and blue CAPA Seal. CAPA Certified parts combine quality with affordability and help keep more cars repairable. Which is good for your customers and good for you.
Those that don't pass—whether they're made of inferior materials, are too thin or ungalvanized, don't meet federal safety standards or don't fit correctly—will never be CAPA Certified. You'll want to steer clear of those parts.
So remind insurance company claims adjusters to specify only high quality, affordable CAPA Certified replacement parts by name. The ones with the yellow and blue CAPA Seal.
Tell them you run a collision shop, not a test-fitting operation for manufacturers who don't measure up.
5 Top Reasons to Use CAPA Certified Parts
All CAPA Certified parts are pre-tested to conform to the industry's highest standards for quality, safety, and comparability to car company brand parts.
No guesswork; CAPA Certified parts fit, perform, and last like the parts they replace.
CAPA Certified parts keep cars repairable—without compromising your standards.
Quality repairs start with quality parts.
Using high quality CAPA Certified parts protects your customer and your reputation.