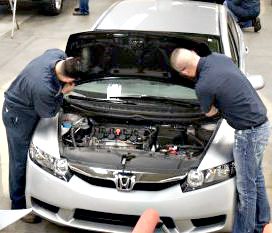 Stick a body shop with a bad part and they'll remember. Do it more than once and you'll pay the price, not the manufacturer.
But there's an easy way to avoid the risk of inadvertently selling bad crash parts. Specify, CAPA Certified replacement parts.
As the nation's only independent non-profit replacement parts certification authority working in the public interest, CAPA puts crash parts through comprehensive tests to see if they fit, perform, last and are as safe as the original car company service part.
Only those that pass our tests earn the right to be called CAPA Certified replacement parts. They combine quality with affordability, and carry the distinctive yellow and blue CAPA Seal.
So take advantage of over 25 years of experience in testing and quality assurance. Stock and promote CAPA Certified replacement parts. We don't compromise on quality and neither should you.
For more information we invite you to call CAPA Support at 1-800-505-2272.
5 Top Reasons to Use CAPA Certified Parts
All CAPA Certified parts are pre-tested to conform to the industry's highest standards for quality, safety, and comparability to car company brand parts.
No guesswork; CAPA Certified parts fit, perform, and last like the parts they replace.
CAPA Certified parts keep cars repairable—without compromising your standards.
Quality repairs start with quality parts.
Using high quality CAPA Certified parts protects your customer and your reputation.